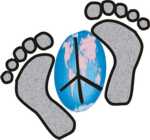 FootPrints for Peace
25 W Main St
Amelia OH 45102
May 6, 2003
To International Peace Pilgrimage Towards a Nuclear Free Future:
Dear Marcus and Atsuko:
The efforts you have given and continue to give to further awareness of the implications of the Nuclear Industry are commendable. The destruction and devastation people are forced to endure for the various purposes our governments deem necessary is unethical and shortsighted. The forces of power and greed lay the foundation of these decisions our governments make on our behalves, leaving our children to deal with the contamination of our planet and of ourselves.
FootPrints for Peace whole-heartedly supports your efforts on this pilgrimage and will provide support to you through participation, getting the word out in the U.S., and developing and maintaining your web site.
Your commitments and experience in the area of peace pilgrimages run deep. Your shared knowledge of organization, outreach, and the devastation and destruction the Nuclear Industry represents in your own countries and throughout the world, are strong credentials as leaders of this undertaking.
May we be with you in spirit, in person, and in peace, sharing this walk with you towards a nuclear free future.
Walking softly in peace,
Jim Toren and Julie Hegge
FootPrints for Peace founders
footprintsforpeace@fuse.net